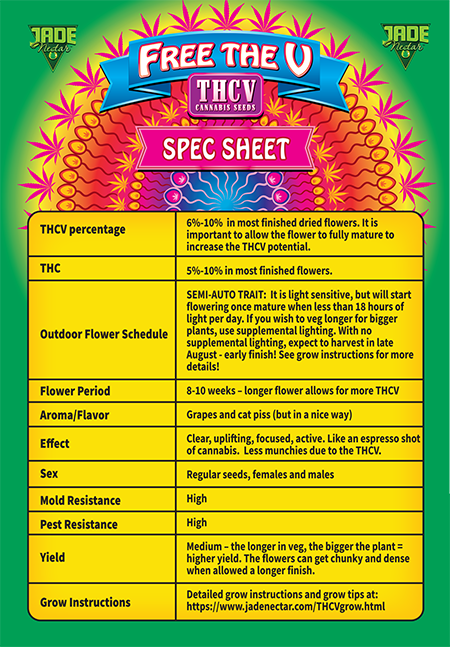 How to Grow Your FREE the V - THCV Seeds
---
Before growing FREE the V - plan ahead for the '18 Hour Flower / Semi-Auto Trait'!
FREE the V may be harvested within 120-150 days (4-5 months) of seed germination when grown outdoors without any light manipulation. Free the V can be harvested as early as July when seeds are germinated in March. But if you wish to grow bigger plants that finish later in the season, you can easily achieve this by hanging a $10 solar landscape spotlight over the plant to keep the plant in vegetative stage longer.
Read more about the 18 Hour Flower / Semi-Auto Trait
---
---
Germinating Seeds and Nurturing Your Sprouts - First 4 Weeks
Supplies Needed:
(optional - but recommended) A seed germinating heat mat with a thermostat temperature controller
Quart size ziplock bag, chemical-free paper towel, 2 dinner plates, clean glass of chlorine-free water, clean bath towel, pair of tweezers
(20) Pots to put your germinated seeds in - 1 gallon pots recommended
1-2 Bags of quality potting soil - a safe brand recommendation is Fox Farm - Ocean Forest
Video About Supplies Needed:
STEP 1 - Germinating your Seeds
NOTE: The technique below is 'my' technique that usually has a 100% seed germination success rate. But, you can use whatever technique you wish to sprout your seeds. If you do use a heat mat, make sure to also use a THERMOSTAT to control the heat. If you do not use a thermostat, you could easily overheat your seeds and kill them!!!!
NOTE 2: The seeds will also germinate if planted directly into moist soil, but there is a risk of failure if it is too cold. This is not recommended until night temperatures stay above 50 degrees F.
Wet 4 squares worth of paper towel in your chlorine-free clean glass of water (use drinking water that is not chlorinated tap water).
Fold your wet paper towel into a square that is 1/2 the size of a paper towel square
Spread your FREE the V seeds on the wet paper towel so no seeds are touching each other
Fold the paper towel in half to cover the seeds, so the seeds are like the filling of a paper towel sandwich
Place the wet paper towel (with seeds in it) into a ziplock bag, and seal it.
Place the ziplock bag in between 2 dinner plates, like a clam shell
Place the plates on your heat mat, and insert the thermostat temperature sensor inside the plates (where the seeds are)
Set your thermostat temperature setting to 85 degrees F
Throw a clean bath towel over the plates like a little cocoon for your seeds
Leave your seeds alone for 36 hours - when you come back - they should all be sprouted and ready for transplanting to your soil!
---
STEP 2 - Planting your Germinated Seeds in Soil
Video showing how to germinate seeds and transplant to larger pots:
---
FREE the V Plants at 11 Weeks from Germination of Seeds
NOTE: We will post the videos leading up to the plants being this size - sorry, Youtube blocked our 'cannabis content', so we need to upload those videos to another format... coming soon.
---
FREE the V Plants at 12 Weeks - Time to sex your plants, remove excess leaves, and begin the transition into flower mode!